What's on NSW & ACT AFHS
Events in 2019 and beyond
---
Colo Shire Family History Group Inc
18 April 2019 with the Hawkesbury Regional Museum – David Hill and the forgotten children book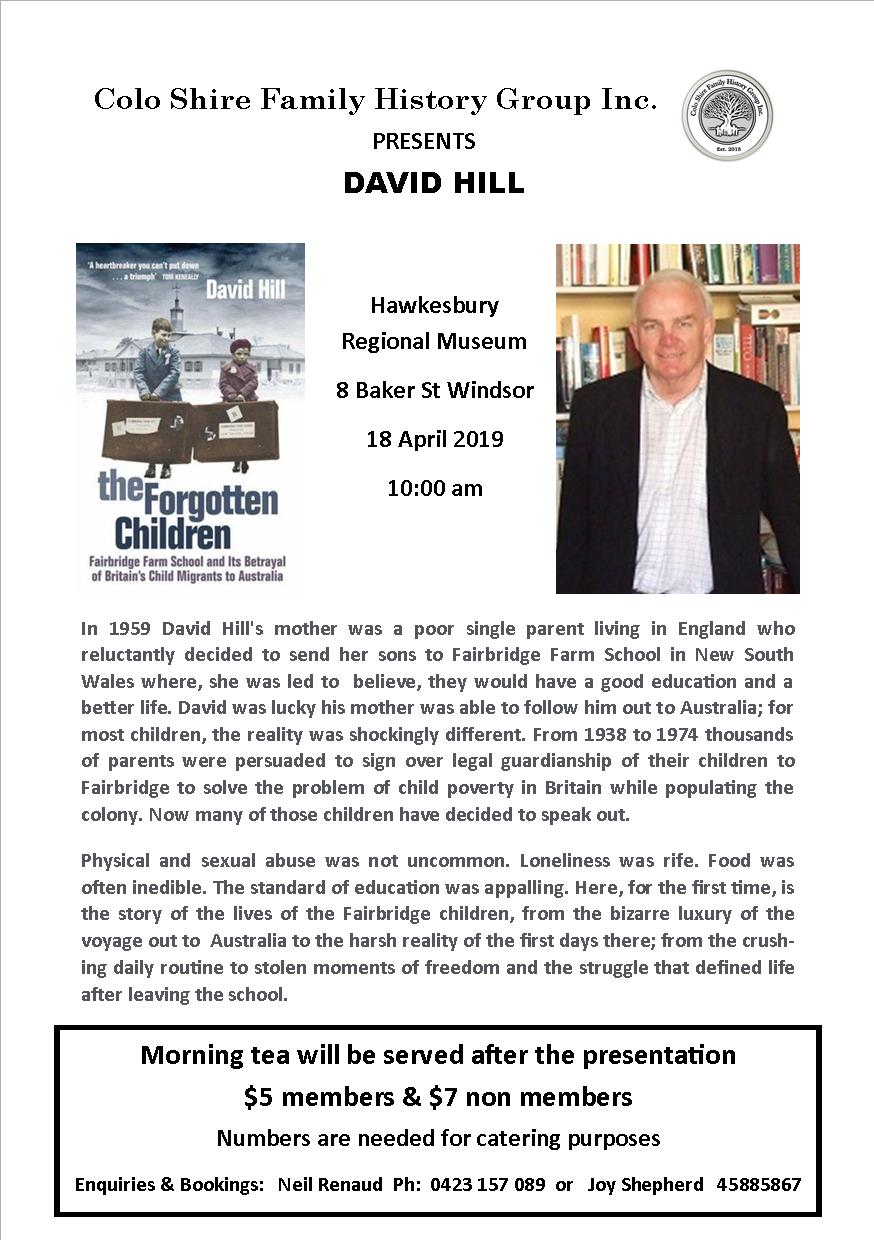 ---
Colo Shire Family History Group Inc
27 April 2019 Heritage Festival
In partnership with the St Andrews Uniting Church Community Engagement Committee, Richmond and several other groups are organising a unique opportunity to experience some of the history of Richmond. The Colo Shire FHG will have a display in the old NAB Bank and will be showing their PowerPoint Presentation "Then & Now" twice on the day in the St Andrews Hall along with a Devonshire Tea.
The Heritage Festival - Richmond is to be held on Saturday 27 April 2019 from 9.30 am to 3.30 pm; see details of whats planned on the attached pamphlet. Sounds a very worthwhile opportunity to visit.
A key objective of the Heritage Festival is to raise funds for the restoration of the eight original windows constructed in 1845. The funds raised will be added to a grant from the NSW Government of $110,000 from the NSW Government Plan Heritage Near Me - Strategic Project.
Others owning or occupying other Heritage Buildings nearby decided to participate in this project as part of the Heritage Festival. Some of these buildings will be open, bringing out their treasures and records for viewing.There will be Cemetery tours, PowerPoint displays, Devonshire teas, sausage sizzle.
The old CBC/NAB Bank is currently vacant and there will be historical displays from the four local historical / family history groups involved on the day. These groups will be selling books and answering any questions you might have.
John Shields, well-known local artist, will be demonstrating his techniques and selling his artwork. There will be wandering musicians and together there are likely to some other local artists participating.
It will be a great day. Don't miss this event. Read flyer
---
Friends of May's Hill Cemetery
Sunday, 28 April 1.30pm for 2:00pm start – Cemetery Tour
---
Botany Bay Family History Society Inc
Saturday 11 May 10am to 4pm Heritage Fair